Zoë-Esme Conflict

General Information
Nickname
Zesme, Songvas
Intimacy Level
Enemies, Kissed, Possible Attraction (On Zoe's side)
Conflict Started
#BuyMePizza
Conflict Status
Enemies
The conflict between
Zoë Rivas
and
Esme Song
developed during the
sixteenth
season of
Degrassi
.
Conflict History
Season 16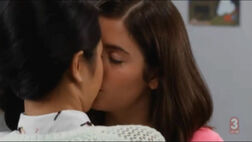 In
#BuyMePizza
, Esme rolls her eyes while watching Zoë audition. Esme is up next to audition and Zoë tells her the part is her's, she in turn tells Zoë that she didn't look like she wanted to kiss Winston. Zoë tells her that Winston has had a crush on her and Esme doesn't believe her. Esme then catches Zoë looking at her chest and tells her to look at her in the eye. 
Later, Zoë interupts Esme while she is studying to ask how she auditioned and got the part. Esme agrees to teach her and they kiss two times. She is impressed with Zoë's kissing and tells her she would have gotten the part if she kissed Winston like that and Zoë leaves the room. Winston later gives Zoë the part over Esme and both she and Zoë seem saddened by it. 
In #ToMyFutureSelf, in class, Zoë and Winston present their project about Japan heritage, Esme accuses Zoë of being racist because of it and they fight. The teacher tells them to change their project idea. Later, Zoë and Winston apologize for their project idea while Esme watches unimpressed. After everyone else leaves, Esme tells Zoë what she thought about her apology but Winston intervenes and stands up for Zoë and Esme says sorry before leaving. 
Trivia
They both have conflicts with Maya Matlin, but only Zoë was friends with her.
Both were in the hospital waiting to see if Maya was alive after suicide attempt.
They both were addicted to drugs.
Gallery
Ad blocker interference detected!
Wikia is a free-to-use site that makes money from advertising. We have a modified experience for viewers using ad blockers

Wikia is not accessible if you've made further modifications. Remove the custom ad blocker rule(s) and the page will load as expected.